Business Overview
HAKARU PLUS (THAILAND) CO.,LTD

Representative: Akihiro Kaseda Managing Director
Establishment: April 2015
Address: 59 / 19 Moo 2 Golden Biz Bangna-Kingkaew,
Kingkaew Soi 6, Tambon Racha Thewa,
Aumphur Bangphli, Samutprakarn, 10540 Thailand
Tel: 02-136-5892 FAX: 02-136-1296
Business Domain: Weighing System design and production,sales
HAKARU PLUS SERVICE(THAILAND) CO.,LTD

Representative: Yoji Yamauchi Managing Director
Establishment: January 2016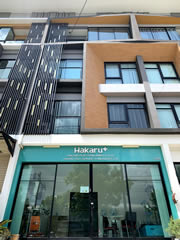 HAKARU PLUS CORPORATION (Parent company)

Business Domain: Electric Power Measurement / Control Device,
Industrial Weighing System for Industrial.
Ready-mixed Concrete Weighing System,
Nursing-care Device & System
Representative: Yasuo MIYAKE, President
Foundation: 1916
Establishment: October 1948
Capital: JPY 90 million
Annual Sales: JPY 4,082 million
Employees: 235 (As of August, 2016)
Corporate Website: www.hakaru.jp
Weighing.JP Website: www.weighing.jp
Global Network
Hakaru Plus's Japanese operation is centrally headquartered in Osaka, with sales offices located in Tokyo. A network of authorized sales representatives insures local support throughout the USA, China, Thailand, Korea and Taiwan.
Head Office-Factory

3-5-11 Tagawa Yodogawa-ku Osaka, Japan
Tel: +81-6-6300-2131 Fax: +81-6-6308-7766
Tokyo Branch

3-12-9 Asagaya-minami Suginami-ku Tokyo, Japan
Tel: +81-3-3392-6311 Fax: +81-3-3392-7151
Shanghai Office and Factory

No.3 Blog, No.189 Jinglian Road Minhang District Shanghai, P.R.China
Tel: +86-21-5431-5327 Fax: +86-21-5431-5397
TAKEMOTO VIETNAM CO., LTD

1254 Xo Viet Nghe Tinh-St Hoa Cuong Nam–Ward Hai Chau-Dist Da Nang City ,Vietnam
Tel: +84-236-384-0577
Our Business Field
Hakaru Plus cater primarily to the cement, aggregate, rubber, resinoid, coating compositions, fertilizer and manure, animal feeding stuff, flour milling, food, toner, steel, glass, ceramics, detergent and fine ceramics industries. We're dedicated to supplying unmatched quality equipment and systems specifically designed for your application which results in superior accuracy, enhanced operating reliability, ease of maintenance and savings in investment. We think beyond continuous and discontinuous weighing technology to provide innovative products and process solutions that mean increased profits for your operation. With global representation in many countries and over 100 years of experience, you can have confidence when you specify Hakaru Plus's equipment.