TMS Manual Weighing Management System






Management of Master Data including Raw Materials, Mixes
In addition to raw material and mix information, worker information can be registered and managed as well.
Linkage is available between the master information in the current upstream system.
Easy to use display screen and interlocks
The implemented Interlock Function prevents the start of the next work step if the matching of a raw material using a barcode or the automatic recognition of a weighted figure within the designated range is not correctly operated.
The guidance display for work instruction allows easy operation.
Improved traceability by automated recording
The automated recording (data origination) of weighing results will prevent transcription mistakes due to human error, and data confirmation/totaling such as weighed results, results per raw material, results per mix, etc., from various perspectives.


Options such as an explosion-proof model, essential for the chemical industry, languages for display screens overseas, SOP required by medical businesses, etc., are available.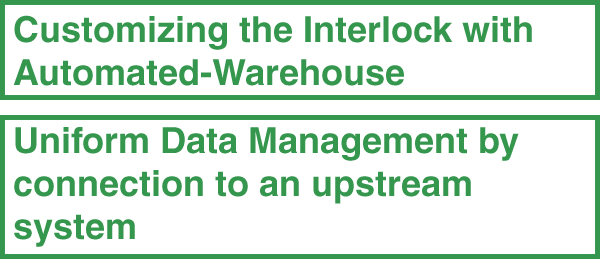 Customized specifications can be provided for requests not met by standard package functions.