The liquid weighing machine is a high-mix/high-precision weighing machine suited for the color toning and mixing of any type of liquid. It is utilized in various industries such as foods, spices, chemicals, rubber products, and inks for its explosion-proof capability and adaptability to high-viscosity liquids.
Solutions are provided for these issues!

The high-precision platform scale + three-stage control nozzle will achieve a reliable mix.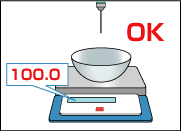 A dedicated nozzle is adopted for the prevention of liquid dripping; the nozzle will standby over the drain pan when not weighing, and prevent soiling outside of the unit.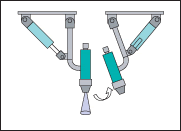 An explosion-proof specification using a pneumatic drive will be available. You can choose between a simplified air purge type and explosion-proof type.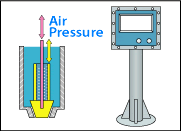 Automated weighing is started simply by setting a container in place. The greatly reduced work volume will reduce the labor of the operator.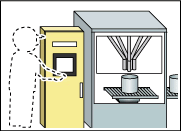 Examples of Implementation
Automation requires only one operator for handling 3 lines.

3 lines were attended by 1 operator each for mixing the powder and liquid.

Only 1 operator handles 3 lines.
---
Automated weighing of 100 types of raw materials! Much easier management!


Inventory management was not possible due to too many types of raw materials.

Eliminated the supply omission of raw material and incorrect uses. The management of weighing records and raw materials has become easier.
Specifications (General)

Weighing Rating
Weighing amount: 25kg
Minimum indication: 0.1kg
Static load precision guarantee:0.5 g
Dynamic Load Precision
+/- 1g (depends on fluid viscosity)
Raw Material Supply
20 points
Supply Valve
3 stage filling valve (needle valve type)
Weighing POT
φ200 x H 200mm (Volume 6L)

Weighing Rating
Weighing amount: 10kg
Minimum indication: 0.005kg
Static load precision guarantee: 0.005kg
Dynamic Load Precision
+/- 20g (depends on liquid viscosity)
Raw Material Supply
6 points
Supply Valve
25A Ball Valve
Weighing POT
Total Volume 15L
Load Cell
3 point mounting